So I was a T, went up to him and he shot me because "only Ts would be holstered and arent afraid of dying". I didnt do anything the entire round. So he slays me for 3 rounds becauese I did the same to him...
I would of been ok if he said sorry, but he didnt, instead, he said its ok to shoot holstered people. Its ok for him to kill holstered Ts but its not ok if I kill holstered Ts? Some logic that is....
Yeah, can you do something about this?
His steam ID: #     40 "[PB] bluedomon"    STEAM_0:0:87576918
Edit: Screenshot of him abusing and killing me: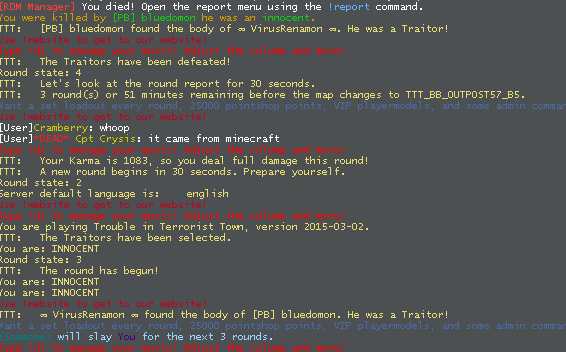 Last edited by VirusRenamon on Sat Mar 21, 2015 2:01 pm; edited 6 times in total (Reason for editing : Screenshot proof and left after abusing.)



Posts

: 3


Join date

: 2015-03-20



Woah this is major abuse and RDM. Remind me what rank is he? I'll talk to Mun about this.



Posts

: 21


Join date

: 2014-12-12



I dont remember, I havent seen him on since. I think he was VIP or something like that.



Posts

: 3


Join date

: 2015-03-20




---
Permissions in this forum:
You
cannot
reply to topics in this forum